Warning: Trying to access array offset on value of type null in /customers/b/4/f/thaiembassy.dk/httpd.www/wp-content/plugins/twitter-facebook-google-plusone-share/tf_display.php on line 72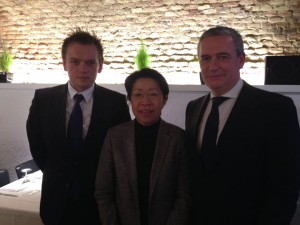 On 16 January 2015, Ms. Vimon Kidchob, Ambassador of Thailand to Denmark and Lithuania, met with Mr. Nerijus Luksas, Acting President of the Lithuanian Muaythai Union (LMU) and Mr. Erikas Tamasauskas, Vice-president of LMU to discuss how the Embassy could cooperate with LMU to promote Muaythai in Lithuania.  Both sides believe there are a number of activities that could be arranged, particularly, bringing Muaythai trainers from Thailand to provide knowledge on boxing techniques including the Wai Khru ceremony which is traditionally performed by fighters before every boxing match.  Another possible activity would be to organize a boxing show between a Thai Muaythai boxer and a Lithuanian Muaythai boxer during the Muaythai Championships in Lithuania.
Muaythai has a history of around 20 years in Lithuania and nowadays there are around 2,000 Lithuanian Muaythai practitioners, and the number of Lithuanian Muaythai training gyms that are members of LMU has reached 21.  With such solid base of interest in Muaythai, Lithuania is thus a country with good potential for promoting Muaythai to increase the sport's popularity and to utilize the sport as a means for enhancing people-to-people relations.