Warning: Trying to access array offset on value of type null in /customers/b/4/f/thaiembassy.dk/httpd.www/wp-content/plugins/twitter-facebook-google-plusone-share/tf_display.php on line 72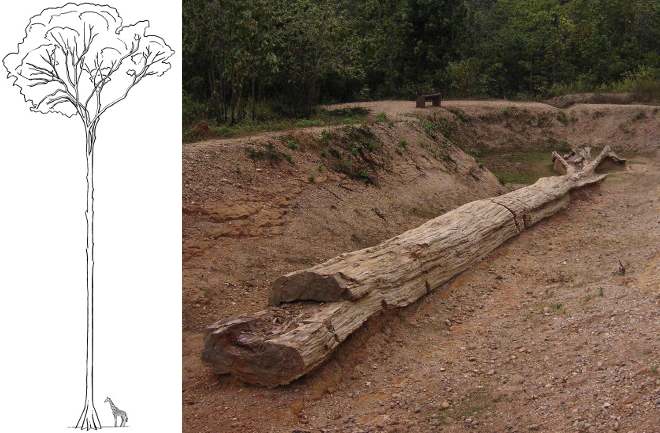 Fossil trees that approached the heights of today's tallest redwoods have been found in northern Thailand. The longest petrified log measures 72.2 meters (237 feet), which suggest the original tree towered to more than 100 meters (330 feet) in a wet tropical forest some 800,000 years ago.
The trees appear to have been closely related to a species alive today called Koompassia elegans, which belongs to the same family as beans, peas and black locust trees, explained lead author of the study, Marc Philippe of France's University of Lyon. That is to say, the ancient trees are not closely related to today's tallest trees, which are the Eucalyptus (gum trees) of Australia and Sequoia (redwoods) of California. Both of those living trees can reach about 130 meters (425 feet) in height.
The sediments in which the fossil trees were found suggest that they lived in a wet forest at the edge of a lowland plain. Today the fossil trees are at an elevation of 170 meters (550 feet) above sea level and the climate flips between wet and dry seasons — what's called monsoonal.
Photo: http://news.discovery.com
Read more: http://news.discovery.com/earth/plants/giant-trees-found-in-thailand-130320.htm