Warning: Trying to access array offset on value of type null in /customers/b/4/f/thaiembassy.dk/httpd.www/wp-content/plugins/twitter-facebook-google-plusone-share/tf_display.php on line 72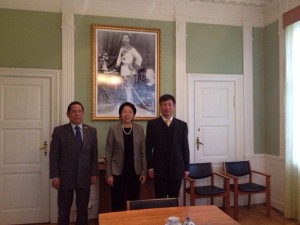 On 26 February 2014, H.E. Ms. Vimon Kidchob, Ambassador of Thailand to Denmark hosted a meeting of Ambassadors of members of ASEAN or Association of Southeast Asian Nations residing in Copenhagen i.e.  Indonesia, Viet Nam and Thailand to discuss ways to further enhance future cooperation to promote awareness of ASEAN as well as ASEAN-Denmark Relations.
This year, resident and non-resident ASEAN Embassies to Denmark plan to organize activities about ASEAN in Denmark especially to promote awareness on the potentials and opportunities in the region as ASEAN will become one ASEAN Community in 2015. These envisaged activities include ASEAN Roadshow, ASEAN Lecture, ASEAN Food Festival and ASEAN Day Reception among others.