Warning: Trying to access array offset on value of type null in /customers/b/4/f/thaiembassy.dk/httpd.www/wp-content/plugins/twitter-facebook-google-plusone-share/tf_display.php on line 72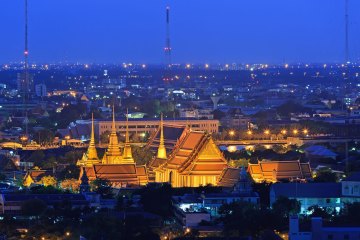 Bangkok is this year's top city for travel, according to MasterCard's Global Destination Cities Index.
Bangkok has emerged as the world's top tourist destination, with 15.98 million visitors projected to descend in Thailand's capital city this year, according to the third annual Global Destination Cities Index released by MasterCard on Monday.
Thawatchai Arunyik, deputy governor for the domestic market at the Tourism Authority of Thailand (TAT), said, "The Thailand tourism slogan 'Amazing Thailand Always Amazes You' is certainly apt as its capital, Bangkok, has emerged at the top of this year's index.
"And the word 'Amazing' focuses on the interest of foreign tourists towards the country of Thailand. What a tribute this is to our city's hospitality industry, the transport industry and food and beverage and catering industry and more."
Part of the reason for Bangkok's increase in visitors is from its many air links to some of the fastest-growing cities across the world.
Picture: http://newsfeed.time.com/2013/06/01/bangkok-claims-the-worlds-no-1-tourist-destination-title/
Read more: http://blogs.wsj.com/searealtime/2013/05/27/bangkok-tops-list-of-worlds-tourist-destinations/