Warning: Trying to access array offset on value of type null in /customers/b/4/f/thaiembassy.dk/httpd.www/wp-content/plugins/twitter-facebook-google-plusone-share/tf_display.php on line 72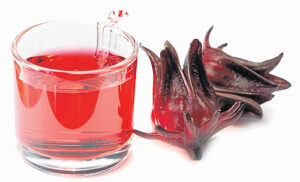 Hibiscus tea, or dried calyces of Hibiscus sabdariffa, a herb with red flowers commonly known as roselle or krajiab daeng in Thai,  its aromatic taste and smell, research has shown it is a beverage that helps relieve a wide range of ailments and can provide protection against serious health conditions.
According to the pharmacist, roselle is packed with anthocyanins, flavonoid compounds that have strong natural anti-oxidant properties, meaning they help provide protection against free radicals. These harmful substances damage cells in the body that bring on many diseases or set them in motion. As a result, roselle tea may help fight the advent of degenerative conditions including ageing and Alzheimer's disease.
Photo: http://www.bangkokpost.com
 Read more:  http://www.bangkokpost.com/food/features/329722/make-it-a-habit