Warning: Trying to access array offset on value of type null in /customers/b/4/f/thaiembassy.dk/httpd.www/wp-content/plugins/twitter-facebook-google-plusone-share/tf_display.php on line 72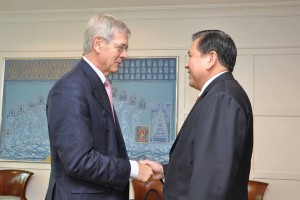 On 14 November 2014, Mr. Philippe Varin, Special Representative for ASEAN Countries to the French Minister of Foreign Affairs and International Development, paid a courtesy call on General Tanasak Patimapragorn, Deputy Prime Minister and Minister of Foreign Affairs of Thailand.
During the meeting, Mr. Varin expressed France's confidence in Thailand's economic potential and readiness to expand economic cooperation as well as to strengthen relations in other areas bilaterally and also with other ASEAN countries.  In this regard, Mr. Varin would preside over the 11th ASEAN Forum for French Foreign Trade Advisors on 17 November 2014 held in Bangkok to discuss the expansion of French trade and investment in Thailand and ASEAN.  It is expected that the forum will be attended by more than 300 French businessmen and trade advisors in the region.
On his part, the Thai Deputy Prime Minister and Foreign Minister assured Mr. Varin of Thailand's readiness to proceed with its infrastructure projects as well as the government's policy to give importance to promoting trade and investment between Thailand and France.  Support would also be given to the Work Integrated Learning (WIL) programme that is being implemented by the French private sector in cooperation with Thai educational institutions.
Source: http://www.mfa.go.th/main/th/media-center/14/51302-ผู้แทนพิเศษของรัฐมนตรีว่าการกระทรวงการต่างประเทศแล.html