Warning: Trying to access array offset on value of type null in /customers/b/4/f/thaiembassy.dk/httpd.www/wp-content/plugins/twitter-facebook-google-plusone-share/tf_display.php on line 72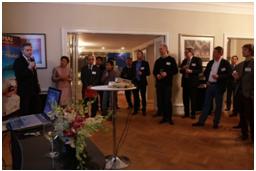 On 7 February 2013, Royal Thai Embassy in collaboration with Thai Airways International Office in Copenhagen held the "Friendship Reception for Danish Travel Business 2013" reception at the Residence. The reception is aimed to provide an opportunity for all Danish travel agents as well as Thai Airways International Office in Copenhagen to strengthen their networking. In addition, the participants also learnt latest news about tourism opportunities in Thailand from the Director of TAT in Nordic countries as well as latest business plan and marketing strategy with regard to International flights between Thailand and Denmark.
Today most Danish knows Thailand quite well. Many have had opportunities to visit Thailand , and large number of tourists from Denmark visited Thailand every year. Last year more than 160,000 visitors from Denmark visited Thailand, many of whom are repeaters.