Warning: Trying to access array offset on value of type null in /customers/b/4/f/thaiembassy.dk/httpd.www/wp-content/plugins/twitter-facebook-google-plusone-share/tf_display.php on line 72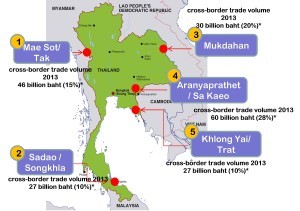 The Board of Investment (BOI) recently announced the target industries that would be eligible for investment incentives in any of the five special economic zones (SEZs) located along Thailand's borders with neighboring countries.  The five SEZs are located in the provinces of Tak (bordering Myanmar), Sa Kaew (bordering Cambodia), Trat (bordering Cambodia), Mukdahan (bordering Laos) and Songkhla (bordering Malaysia).  Establishing and granting privileges for the zones are designed to spread development and economic growth to border areas, and provide opportunities for legal work to migrants from neighboring countries who might otherwise fall into the hands of human traffickers.
The 13 industries for which investments are eligible for incentives are: agro-industry, fisheries and related businesses; ceramic products and manufacturing; clothing, textiles and leather manufacturing; furniture manufacturing; gems and jewelry manufacturing; medical devices manufacturing; automobiles, machinery and parts manufacturing; electronics and electrical appliances manufacturing; plastics manufacturing; pharmaceuticals manufacturing; logistics businesses; industrial zones or estates; and businesses that support tourism.
The list of eligible activities will vary in each SEZ based on potentials, limitations and local needs of a particular SEZ.  Qualified projects will receive the highest privileges which include exemption from corporate income tax for 8 years and 50% reduction of income tax for additional 5 years.  Businesses which are not investing in one of the target industries but are on the list of BOI promoted activities can also submit a request for additional incentives if they locate their facilities in an SEZ.
Sources:
http://www.boi.go.th/upload/content/2015-04-16%20BOI%20board%20sets%20list%20of%20targeted%20industries_68966.pdf
For more information, see: