Warning: Trying to access array offset on value of type null in /customers/b/4/f/thaiembassy.dk/httpd.www/wp-content/plugins/twitter-facebook-google-plusone-share/tf_display.php on line 72
Furious at the number of new cars on the road, the Green World Foundation pushes its charter for a more bike-friendly city with the launch of a new bike map.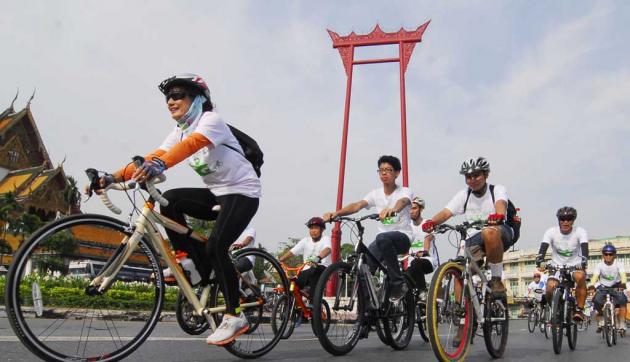 Cycling is a solution to urban ills: it reduces air pollution and global warming while promoting health, road safety and the economy. The foundation and Thailand Cycling Club even launched the Bangkok City Bike project to encourage people to leave their cars at home and get on their bikes and despite the success of the first-car scheme, continue to campaign for Bangkok to be a cycling city.
Part of the project is the Bangkok Bike Map, which contains 126 maps of Bangkok's inner ring roads surveyed by volunteer cyclists, among them Rasada Photipantong. This book also offers ways to get round obstacles and stay safe on rides, lists bike groups and shops, and tells the reader how to connect with several mass transit systems including train and ferryboat. Safety levels are indicated in three colours: green, yellow and red.
Photo: www.nationmultimedia.com
Read more: http://www.nationmultimedia.com/life/Life-on-two-wheels-30197685.html