Warning: Trying to access array offset on value of type null in /customers/b/4/f/thaiembassy.dk/httpd.www/wp-content/plugins/twitter-facebook-google-plusone-share/tf_display.php on line 72
Thailand wins 2013 Asia-Pacific Heritage Award for temple restoration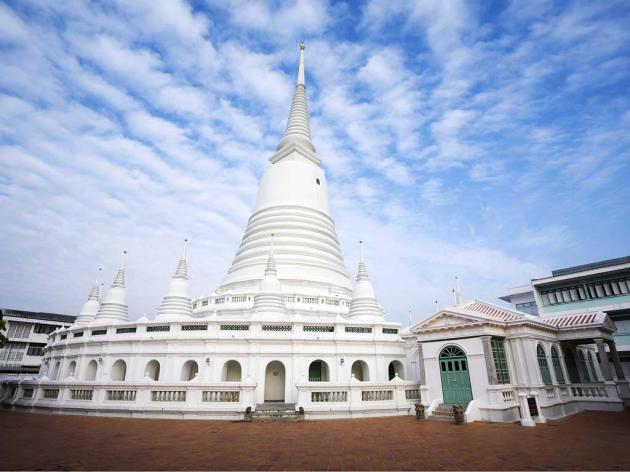 Unesco praises the successful restoration of the "leaning chedi"of Wat Prayoon
The United Nations Educational, Scientific and Cultural Organisation has chosen the restoration of the main chedi at Wat Prayoon in Thonburi over 46 other such works around the region for its 2013 Asia-Pacific Heritage Award for Cultural Heritage Conservation.
The successful restoration of the Wat Prayoon chedi draws together an outstanding combination of engineering challenges and strong faith in Buddhism of the Thai people. The attempt has been honoured with an Award of Excellence in the 2013 UNESCO Asia-Pacific Heritage Awards for Cultural Heritage Conservation.
Wat Prayoon was built in 1828 (Buddhist Era 2371) followed by the construction of its principle chedi 20 years later. The chedi was struck by lightning in 1871 (BE 2414) and remained broken for 47 years. A major renovation later took place in 2006 (B.E. 2549), during which relics of the Buddha and numerous antique amulets were discovered.
The rediscovering of the ancient Buddhist artifacts shows a prosperous time of Buddhism in the past and how the country upheld its national cultural heritage. Recognising the country's effort as well as the outstanding social impact in this regard, UNESCO granted Thailand an award of excellence among 47 entries received from 16 countries across the Asia-Pacific region.
Picture: http://www.nationmultimedia.com/life/New-life-for-a-pillar-of-faith-30214358.html
Read more: http://www.pattayamail.com/news/thailand-wins-2013-asia-pacific-heritage-award-for-temple-restoration-30035