Warning: Trying to access array offset on value of type null in /customers/b/4/f/thaiembassy.dk/httpd.www/wp-content/plugins/twitter-facebook-google-plusone-share/tf_display.php on line 72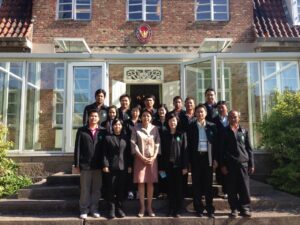 On 8 July 2013, the Ambassador of Thailand to Denmark, H.E. Ms. Vimon Kidchob, and officials of the Royal Thai Embassy in Copenhagen welcomed delegation from the Royal Project Foundation and Highland Research and Development Institute who paid a visit Denmark to study the Danish organic farm's technology and system. The Ambassador of Thailand hosted luncheon for the said delegation at the Ambassador's residence. The delegation visited various sites in Denmark from 7-13 July 2013 as followed;
Birkemosegård organic farm in Sjællands Odde, where the delegation learned about the techniques of growing organic fruits and vegetables as well as organic cattle farming.
Gelstrupgård Øko organic pig farm in Nykøbing Sjælland to learn about organic pig farming techniques and how to produce high quality pork products at reasonable price.
Stengården v/Egg organic poultry farm in Birkerød to study about organic poultry farming and the production of organic fruits and vegetables as well as integrated farming where the farm owners can sell their products directly to the customers.
Årstiderne A/S is a company selling seasonal organic produce located in Humlebæk, where the delegation learned about internet marketing and home delivering system to facilitate the customers. The delegation also learnt how to conduct business based on sustainability and eco-friendly techniques as well as running the business with ethical codes.
Organic Farming Institute in Copenhagen, where the delegation attended a seminar regarding the policies of producing organic products by the European standards.
 Gadstrup Planteskole Flower Nursery in Roskilde, where the delegation studied about how to cultivate flowers without using any chemicals and how to use necessary machineries to assist the cultivation and production of pot flowers as well as the distribution of organic flowers to local retailers.