Warning: Trying to access array offset on value of type null in /customers/b/4/f/thaiembassy.dk/httpd.www/wp-content/plugins/twitter-facebook-google-plusone-share/tf_display.php on line 72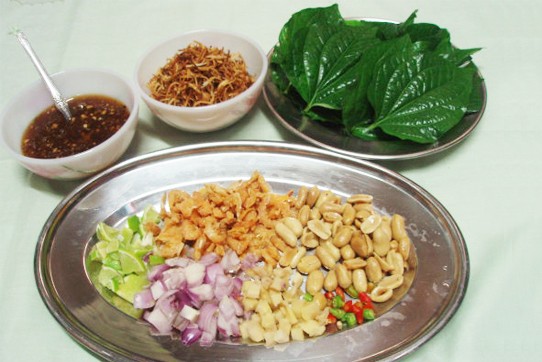 Miang kham is a very popular tasty snack, with origins in both northern Thailand and Laos and is usually found at fairs and festivals in both countries.
Although it is a simple snack its contents ensure it is very tasty and delicious and is often used as an appetizer in many Thai restaurants. Consisting of a quantity of native Thai green leaves, either fresh Piper sarmentosum (chaplu) leaves or Chinese broccoli leaves, the diner selects small quantities of the tiny ingredients provided, placing them on the leaf and adding a taste of a specially prepared, thick, spicy sauce. The leaf is then folded up into a miniature wrap and eaten whole. Biting into the wrap releases a delightful mix of contrasting flavours from the ingredients – spicy chilies, shallots, garlic cloves, fresh ginger, dried shrimps, sour green mango and fresh lime, all in the slightly spicy sauce, and tempered by coconut shavings and roasted peanuts or cashew nuts.
A sure fire way to awaken the taste buds!
Photo : http://www.istockphoto.com/
Read more: http://www.nationmultimedia.com/top40/detail/7135