Warning: Trying to access array offset on value of type null in /customers/b/4/f/thaiembassy.dk/httpd.www/wp-content/plugins/twitter-facebook-google-plusone-share/tf_display.php on line 72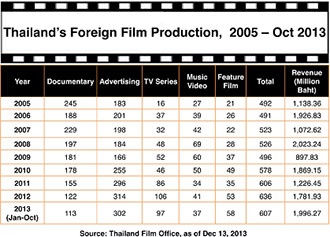 The Thai film industry experienced a bright year in 2013 and grew almost 100% in 2013 to 2 billion baht, up from 1.1 billion baht in 2012.
Thailand offers great business opportunities within its entertainment sector, including the potential to be a regional media center with its unique combination of a welcoming culture, diverse sceneries, high-level talent, well equipped studios, strategic location, relatively low costs, and government promotion. Additionally, various landscapes and a strong, unique culture make the country a source of inspiration and innovation for this industry.
Lately, the country has been gearing itself up for even more productions from different parts of the world, notably India's fabled Bollywood.
Even though Thailand is not yet the Hollywood of Asia, with government incentives for foreign filmmakers to shoot their productions in Thailand in the works, increased BOI attention to investment in entertainment infrastructure and additional funds for Thai filmmakers and others in the industry, it will not be long before Thailand takes its place as the entertainment capital of Asia.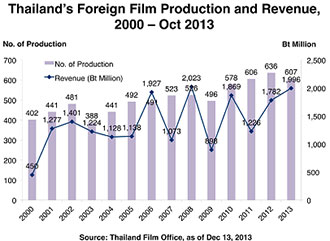 Source: Thailand Investment Review January 2014 http://www.boi.go.th/tir/issue_content.php?issueid=107;page=298