Warning: Trying to access array offset on value of type null in /customers/b/4/f/thaiembassy.dk/httpd.www/wp-content/plugins/twitter-facebook-google-plusone-share/tf_display.php on line 72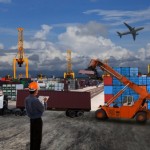 Thailand is emerging as a major logistics hub in the region and its logistics industry should be worth nearly $100 billion a year by 2019, according to a report released recently by Frost & Sullivan, an international consulting firm.
Geographically positioned at the heart of mainland Southeast Asia, Thailand's strategic location makes it a natural hub for transport as well as manufacturing.   Furthermore, the Government will partner with the private sector to invest over $60 billion in new infrastructure beginning this year. Most of that infrastructure involves transport and logistics, such as new and upgraded rail lines, ports, airports and roads.
"Government plans to position Thailand as the trade and service hub of the Greater Mekong sub-region and as the gateway to Asia are opening up opportunities in the logistics and transport industry," said Jeff Tan, automotive and transportation senior consultant for Frost & Sullivan. "Thailand's road transport plays a key role in connecting the landlocked countries of Indochina."
The firm's report estimated that Thailand's logistics industries brought in earnings of $71.7 billion in 2014 and forecasted that the industry should produce earnings of $96.5 billion by 2019.
Source: http://thaiembdc.org/2016/01/18/analyst-says-thai-logistics-industry-will-be-worth-100-billion/
Image courtesy of khunaspix at FreeDigitalPhotos.net