Warning: Trying to access array offset on value of type null in /customers/b/4/f/thaiembassy.dk/httpd.www/wp-content/plugins/twitter-facebook-google-plusone-share/tf_display.php on line 72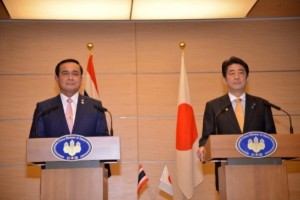 H.E. General Prayut Chan-o-cha (Ret.), Prime Minister of the Kingdom of Thailand visited Japan from 8 – 10 February 2015 during which he held a Japan-Thailand Summit Meeting with Mr. Shinzo Abe, Prime Minister of Japan, on 9 February.
Both sides reiterated their determination to maintain and further develop the Strategic Partnership between the two countries based on the long-standing amicable relationship.  This includes enhancing security and defense cooperation in various fields and promoting people-to-people exchange in the areas of culture, education and sports.  At the same time, both sides shared the view that the two countries would cooperate in order to realize the ASEAN Community by the end of 2015 and beyond as well as regional sustainable peace and prosperity while respecting shared values and norms such as freedom, democracy, the rule of law and human dignity.
Economic cooperation was also discussed at length.  Emphasis was made in the area of infrastructure development, in particular, the development of railway transport in Thailand and the Dawei Special Economic Zone Project in Myanmar which is the largest economic project in Southeast Asia to connect the Greater Mekong Sub-region with South Asia.  Both sides recognized that Japan's involvement in Thailand's overall infrastructure development scheme would contribute to Thailand's role as a hub of ASEAN connectivity and boost development in the Greater Mekong Sub-Region which is now recognized as an emerging centre of regional economic growth.
Prime Minister Prayut also took the opportunity to explain Thailand's efforts in maintaining stability of the country which was crucial in securing economic growth and reform of the country towards a sustainable and inclusive democracy. Both sides shared the view on the importance of resilient and robust democracy in Thailand, and confirmed Thailand's commitment to early restoration of democracy in line with its roadmap.
Full text of the Japan-Thailand Joint Press Statement on the Occasion of the Visit by Prime Minister Prayut Chan-o-cha of the Kingdom of Thailand to Japan, February 9, 2015, Tokyo: http://www.mfa.go.th/main/en/media-center/14/53609-Japan-Thailand-Joint-Press-Statement-on-the-Occasi.html