Warning: Trying to access array offset on value of type null in /customers/b/4/f/thaiembassy.dk/httpd.www/wp-content/plugins/twitter-facebook-google-plusone-share/tf_display.php on line 72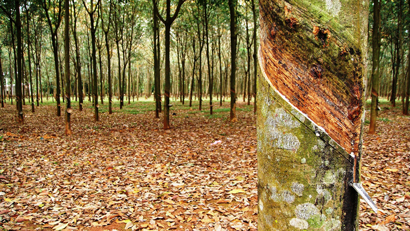 PHUKET: Thailand is bidding to become the official global hub of the rubber industry, and believes that with cooperation from other Asean countries it can drive the growth of the industry worldwide.
The bid was launched at the three-day Asean Rubber Conference held recently at the Hilton Phuket Arcadia Resort and Spa, which also heard some controversial proposals for the future of the rubber industry when the Asean Economic Community (AEC) comes into being in 2015.
The conference brought together delegates from the 10 Asean member-countries and the world's main rubber buyers – China, Japan, and India.
Thailand's claim to be the hub of the industry is backed up by the fact that it is the world's number one rubber producer, with an annual output of 3.1 million tons, of which as much as 78 per cent is exported.
Photo: http://www.thephuketnews.com/
 Read more: http://www.thephuketnews.com/thailand-bids-to-be-world-centre-of-rubber-industry-39237.php