Warning: Trying to access array offset on value of type null in /customers/b/4/f/thaiembassy.dk/httpd.www/wp-content/plugins/twitter-facebook-google-plusone-share/tf_display.php on line 72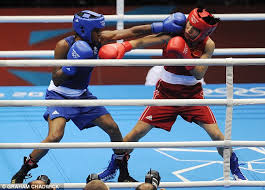 Thailand will host the 2014 Asian Youth Amateur Boxing Championships and the 2015 Asian Men's Amateur Boxing Championships.
Both tournaments were officially confirmed on 8 October 2013 by Aziz Kozhambetov, executive director of the Asian Boxing Confederation and Pichai Junhavachira, president of the Thailand Boxing Association.   
 "We chose Thailand because of their great commitment and interest in hosting these two tournaments," Kozhambetov said.
Both tournaments will be held at Indoor Stadium, Hua Mark. The youth tournament will be staged Jan 13-22 next year while the date for the 2015 Asian championships has yet to be fixed.
Picture: http://www.dailymail.co.uk
Read more: http://www.bangkokpost.com/news/sports/373726/thailand-chosen-as-hosts