Warning: Trying to access array offset on value of type null in /customers/b/4/f/thaiembassy.dk/httpd.www/wp-content/plugins/twitter-facebook-google-plusone-share/tf_display.php on line 72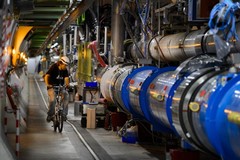 Thailand has been chosen as the site of the first computing centre in Southeast Asia to analyse data from the world's biggest physics experiment.
The new Worldwide LHC Computing Grid (WLCG) centre will be opened soon under an agreement between Thai agencies and the European Organisation for Nuclear Research (CERN).
The National Science and Technology Development Agency (NSTDA), Chulalongkorn University, Suranaree University of Technology and CERN signed a memorandum of understanding for the joint development and operation of the centre in Bangkok.
The WLCG project provides global computing resources to store, distribute and analyse the more than 25 Petabytes (25 million Gigabytes) of data generated each year by the Large Hadron Collider (LHC) at CERN on the Franco-Swiss border.
As of the end of 2012, the project had 170 computing facilities in a worldwide network across 36 countries.
The $9-billion LHC, the largest experimental facility ever built, occupies a 27-kilometre tunnel deep below the border between Switzerland and France.
Ties between Thailand and CERN have been established and strengthened considerably because of four visits to CERN by Her Royal Princess Maha Chakri Sirindhorn.
The agreement also has potential to allow the country to further upgrade infrastructure, including water management, climate change scenarios, computer engineering and computer science.
Picture: http://www.bangkokpost.com
Read more: http://www.bangkokpost.com/news/local/374352/thai-data-centre-a-huge-step-for-physics