Warning: Trying to access array offset on value of type null in /customers/b/4/f/thaiembassy.dk/httpd.www/wp-content/plugins/twitter-facebook-google-plusone-share/tf_display.php on line 72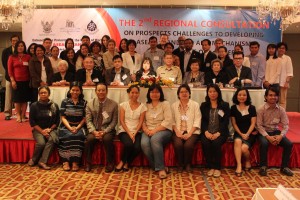 Thailand is taking the lead in lobbying the countries of the Association of Southeast Asian Nations (ASEAN) to adopt common labour standards and practices when the ASEAN Economic Community (AEC) is launched at the end of 2015.  ASEAN groups together Brunei, Cambodia, Indonesia, Laos, Malaysia, Myanmar, Philippines, Singapore, Thailand and Vietnam.
Thailand has hosted two regional consultations to jump-start the process of creating common labour standards and invitations were extended to the International Labor Organization (ILO), members of the ASEAN Inter-governmental Council on Human Rights  (AICHR), members of the human rights bodies of ASEAN countries as well as representatives of national worker's organizations, trade unions and civil society organizations in the region.
In an interview given to Interaskyon, Christopher Ng, regional secretary of Uni Asia & Pacific, a federation of labor unions in the region, revealed that the contents of the proposed law included core labour standards as specified by ILO and a commission at the ASEAN level.
The AEC will remove barriers to the movement of labor – as well as capital, goods and services – and allow the free flow of workers across the region.  Some labour rights groups and other analysts have raised concerns that this movement could lead to abuses, especially as labour standards, rights and practices can vary widely in different countries in the region. By seeking to create common standards, Thailand is taking a pro-active approach and trying to stop abuses before they happen, while creating a fair and level playing field across the ten countries of ASEAN.
Source: http://www.thaiembassydc.org/?p=1388
Image source: http://www.lrct.go.th