Warning: Trying to access array offset on value of type null in /customers/b/4/f/thaiembassy.dk/httpd.www/wp-content/plugins/twitter-facebook-google-plusone-share/tf_display.php on line 72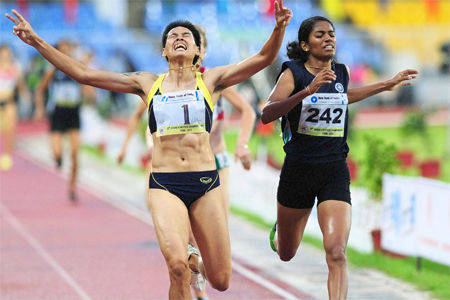 Wassana Winatho added another trophy to her overflowing cupboard when she retained her heptathlon title at the Asian Athletics Championships on Saturday 7 July 2013.
She has won the heptathlon thrice at the SEA Games, as a 19-year-old in 1999 Brunei, and then back to back in 2007 at Korat and 2009 at Vientienne. Besides, she also won the pentathlon title at the 2009 Asian Indoor Games in Hanoi and the 2006 Asian Indoor Championships in Pattaya.
Photo: http://articles.timesofindia.indiatimes.com/2013-07-07/athletics/40420699_1_heptathlon-sea-games-hong-kong
Read more: http://articles.timesofindia.indiatimes.com/2013-07-07/athletics/40420699_1_heptathlon-sea-games-hong-kong