Non- immigrant Category O for voluntary work
Please note that the Royal Thai Embassy shall be the sole authority providing visa applications by post. The Royal Thai Honorary Consulate in Lithuania and the Royal Thai Honorary Consulate-General in Iceland will no longer accept visa applications by post from 1 May 2014. Kindly note also that the Royal Thai Honorary Consulate-General in Hvide Sande is permanently closed. When applying for a visa at the Royal Thai Embassy, it is required that the applicants use and submit an application form from the Royal Thai Embassy only. The visa application form from the Royal Thai Honorary Consulate-General in Hvide Sande WILL NOT BE ACCEPTED.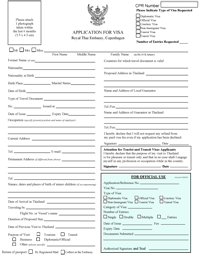 Visa application and processing time
 1. Personal contact at the Embassy
Submission of visa application is ONLY between 09.00 hrs – 11.30 hrs from Monday to Friday (except official holidays). Any visa applications submitted at the Embassy after 11.30 hrs will NOT be accepted.
Collection of visa is ONLY between 14.00-16.00 hrs.
Visa applications submitted at the Embassy in person will take approximately

3 working days

during the low season (March – September) and

up to 5 working days

during the high season (October – February).
Postal application
Visa applications sent to the Embassy by post will take up to 15 working days in all seasons.
For visa applications sent to the Embassy by post, all the required documents must be in order.
Kindly enclose the visa fee in cash and a self-addressed envelope with appropriate postage (registered mail only) so that the Embassy can return the passport(s).
Applications lacking any required documents will not be processed and will be returned to the applicant immediately.
For postal visa applications sent to the Embassy from Iceland, Lithuania, Greenland and the Faroe Islands, visa fees are to be enclosed in Danish currency only. Travelers who reside in Denmark and are expected to travel within a short time frame are strongly advised to submit the visa applications to the Embassy in person.
For Danish Passport holder
Any Danish passport holder is normally allowed to enter and stay in Thailand up to 30 days without a visa for tourism purpose when enter the country by air and only 15 days by land or by sea. If your stay will be longer than the mentioned period, then you need to apply for a visa.
For Applicants  listed in the countries with additional requirements
**Applicants listed in the countries with additional requirements namely; Afghanistan, Algeria, Central African Republic Bangladesh China, Republic of Cameroon, Central Africa, Republic of the Congo, Democratic Republic of the Congo, Egypt, Republic of Ghana, Republic of Equatorial Guinea, Republic of Guinea, India, Iraq, Iran, North Korea, Lebanon, Libya, Republic of Liberia, Nepal, Nigeria, Pakistan, Palestine, Saudi Arabia, Federal Republic of Somalia, Republic of Sierra Leone, Sri Lanka, Sudan, Syria, Democratic Republic of Sao Tome and Principe and Yemen are requested to submit the visa applications at least four weeks prior to the travel date. More details click here
For Danish Alien's Passport (Grey) and Danish Travel Document (Blue) Passport holder
Applicants who are originally nationals of countries with additional requirements and currently holding Danish Alien's Passport and Danish travel documents need to submit the visa application at least four weeks in advance as well. Make sure that all required documents submitted are in copies.
Holders of Danish travel documents and Danish alien passports must apply for a visa regardless of how many days the applicant will stay in the Kingdom.
For Minor
In case the applicant is a minor, both parents need to sign on the child's application as consent. In case of single parent, a supporting document of child's full custody is required.
**The Embassy does not provide copy service and all copies must be made in A4 paper.**
List of Documents
Applicants who wish to conduct a voluntary work in Thailand can only apply for a single entry Non-Immigrant O visa which allows him/her to stay in Thailand for 90 days. Should the work period exceed 90 days, applicants must contact the Thai Immigration Service and apply for an extension of the stay permit. Applicants are requested to submit the following documents along with the application form duly completed;
Actual passport (valid at least six months and in good condition)
Copy of the passport (Do NOT attempt to cut the copy of your passport into a passport size.)
Copy of the round-trip tickets or reservation
Copy of hotel reservation/ rental contract/deed. In case of residing with a family, an invitation from the host family along with a copy of their undersigned Thai ID or house registration is required. In case of work or attending business conferences or volunteer, a confirmation from the host company confirming the applicant's residential address is required.The name of the applicant must indicated clearly.

(It is not enough to write the address on the application)

1 x colored passport photo, size 4 X 5 cm., color, front-view, taken no longer than six months
An invitation letter from the organization in Thailand stating the purpose of your stay in Thailand as well as the period of the work
A copy of the organisation's registration
 If you are a non-Danish national residing in Denmark then you need a copy of the residence permit (opholdstilladelse)AND a copy of the yellow CPR card
Citizens listed in the countries with additional requirements, please see section List of Certain Countries with Additional Requirements. Click here
Appropriate fee in cash click here
Each application must contain all the required documents. One copy of the document, e.g. flight ticket, cannot be shared with other applicants. Each applicant must have their own copy.
* All documents must be copied  in A4 size. Do not attempt to cut the copy of your passport into a passport size.*
 Remark
Kindly note that a single entry Non-Immigrant visa allows travellers to stay in the Kingdom of Thailand for three months only. An application for extension of stay permit is possible at the Thai Immigration Office provided that the applicants contact the Immigration in person with the required documents according to each category of visa.
On the other hand, a multiple entries Non-Immigrant visa with one year validity allows a maximum stay in Thailand for three months per entry, meaning that travelers must leave the country every 90 days or contact the Thai Immigration for extension of stay permit.


VISA FEES

Non-Immigrant Visa                                 500 DKK for single entry

The Embassy accepts visa payment only in cash. The Embassy does not accept credit cards, neither bank transfers nor other currencies than Danish Kroner.

NOTE:

* These are only the most common types of visa requested at the embassy. If the list does not answer your questions or you need to apply for a different type of visa, please contact the embassy staff at visa@thaiembassy.dk or call us at +45 39 62 50 10 ext.1. (13.00-15.45 hrs.)